Got a question about driving lessons or about how we work at Hackett? Feel free to get in touch and we'll be delighted to have a chat.
But if you're the shy type, below are a few questions we're often asked that you might find helpful.
How do you pronounce Nighean?
That's genuinely our most frequently asked question! It's like Ian, but with an N at the beginning! It's Scot's Gaelic – my Dad's from Scotland. And the influence doesn't end there – I also enjoy shortbread, Scottish Rugby and…
How old do I need to be to have driving lessons?
If you hold a provisional driving license, you can legally start taking driving lessons as soon as you turn 17.
How do I get a provisional driving license?
You can apply online as long as you're over 15 years and 9 months. You'll need your passport (or another identity document) and National Insurance number to apply. There's a fee (that can be paid online) but your license could be with you in as little as one week.
Do I have to have driving lessons?
There's no legal requirement to take driving lessons before you take your test. But given that driving instructors know the tests inside-out and will prepare you for exactly what you can expect from your driving test, we'd always advise that you take some lessons with an approved instructor. You can always get some additional practise with Mum and Dad to supplement your lessons!
How many lessons do I need to take?
This all depends. The DVSA say the average is 35-40 hours of lessons to prepare for the test, but it depends on a lot of factors. If you've had some experience behind the wheel or pick things up quickly, you could pass with fewer lessons but a lot of people need more. We'll never keep selling you lessons just for the sake of it though – we'll work with you for as long as you need to get to test standard.
Do I need to pass my theory test before I start taking driving lessons?
Not at all! In fact, it's generally considered beneficial to take practical lessons alongside your preparations for the theory test.
How much do you charge for your driving lessons?
Lessons with Hackett can cost from as little as £35 per hour. See our latest prices for more info. Beware driving schools offering low prices – some offer introductory prices for first lessons, whilst others quoting lower prices actually offer shorter lessons!
Do you offer gift vouchers?
Yes! We can tailor our vouchers to your specific requirements. Read more about our driving lesson vouchers.
What areas do you cover?
We provide lessons across the whole of the London Borough of Bromley and surrounding area. Visit our areas covered page to see if you're in Hackett range!
And if you're close but just outside our area, get in touch anyway – we may still be able to take you on. And if you are too far from us, we may still be able to recommend you an instructor who is local to you.
What car do you teach in?
Lessons will take place in a Kia Picanto GT Line S, altered to driving instructor spec with dual controls.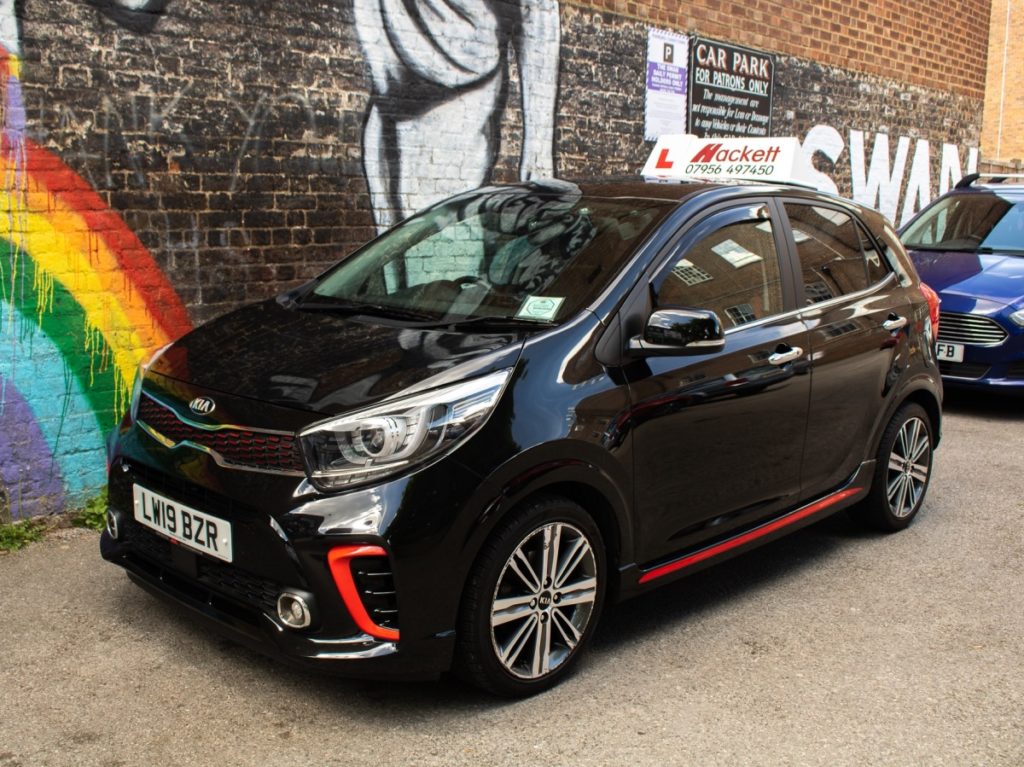 Do you do automatic transmission driving lessons?
We specialise in manual transmission lessons at Hackett. We'd always recommend learning in a manual as it's more flexible – giving you a choice between manual or automatics when you start driving. If you learn in an auto and take your test in an auto, your license will restrict you to driving autos. If you're OK with that, drop us a line as we know a couple of great local instructors who do automatic transmission lessons.
Ready to hit the road?
Contact us to book your driving lessons.
Hackett School of Motoring
Learn to drive with Hackett: fun, comprehensive lessons tailored to help you achieve your driving ambitions as quickly as possible. Open 6 days a week, early 'til late.
Areas covered
We offer practical driving tuition in and around the London Borough of Bromley.
Contact us
Don't be shy! Call, text or WhatsApp on 07956 497 450. Or just contact us online.